TeloCore LONGEVITY 120 tobolek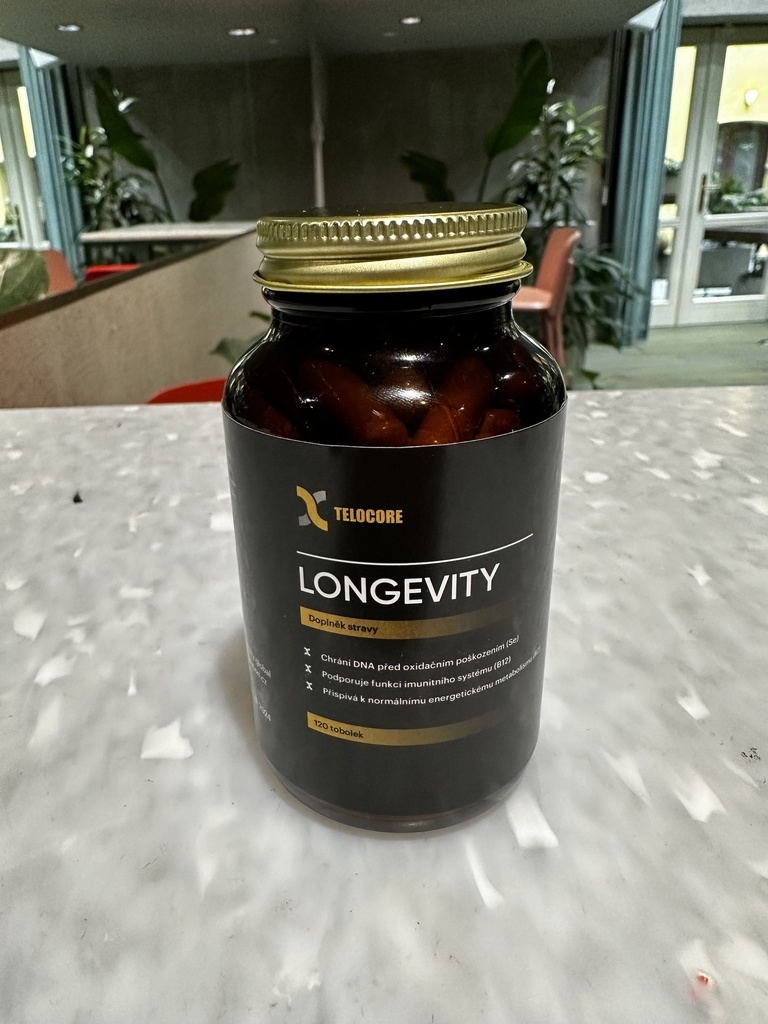 TeloCore LONGEVITY 120 tobolek
---
TeloCore Longevity
Dietary supplement
Content weight: 97.2 g (120 capsules)

Longevity is a unique product. It hides a specially selected combination of substances formulated according to the latest studies focused on aging and longevity.
Longevity can:
support cellular processes,
increase energy in cells,
slow down aging,
counteract the signs of aging.

Longevity can:
Increase the amount of NAD+
Trillions of human cells rely on NAD+ to perform hundreds of metabolic functions, including a wide range of processes from energy generation to maintaining healthy DNA. As we age, the amount of NAD decreases and cellular performance decreases. The substances contained in Longevity increase and optimize the amount of cellular NAD+ (NMN, Niacin, L-Tryptophan, Apigenin and PQQ).

Regulate physiological processes and protect cells
The manifestations and speed of aging depend on lifestyle, diet, amount of sleep and, last but not least, stress. These factors influence many physiological processes, such as metabolism, lifespan and cell functionality. Processes can then be excessively accelerated, disproportionately slowed down or damaged. Thanks to substances such as PQQ, ALA, NAC, Rutin and Gynostemma, signs of aging are suppressed, while cellular energy and metabolism are stimulated.

Help prevent telomere shortening
The length of telomeres (the ends of chromosomes) is a good indicator of the overall aging of the organism. Short telomeres are associated with cellular aging and cellular dysfunction. Vitamin D3, B9, B12, Selenium and Gotukola extract are powerful compounds that help slow and eventually reverse age- and lifestyle-related telomere shortening.

It is not a substitute for a varied diet. The product is not suitable for children. Not suitable for pregnant and lactating women. Protect from direct sunlight. Keep out of reach of children. Store in a dry place up to 25 °C. Do not exceed the recommended daily dose.
---
Advantages: supports cellular processes, increases energy in cells, slows down aging, counteracts the signs of aging.
This is a preview of the recently viewed products by the user.
Once the user has seen at least one product this snippet will be visible.
Recently viewed Products